Looking for many importers who need rfid access control system or keyless door lock china
Chen 2017-02-10 14:43:01
Shenzhen Proyu Technology Co.,Ltd is a gold supplier who supply rfid access control system , time attendance system china and keyless door lock china many years.

And now our company is looking for the right person to establish business relationship. It is a permanent solution for pivot wear with great international success so far and aggressive growth goals ahead. For the right person this is an opportunity to cooperate with our firm .

All of our items are with excellent quality and reasonable price,to cooperate with our firm will help you to reduce your unnecessary cost,why wait?

some Details about our hot selling product:

USD25 lock use card swipe key card door lock with hotel locking system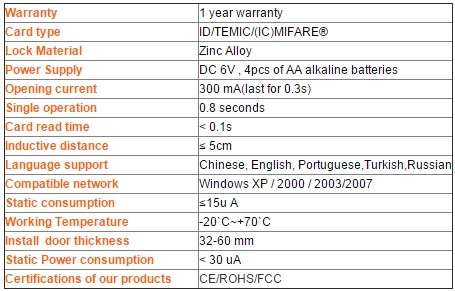 Selling Point:

1.It is forged by Zink alloy(stainless steel or copper) once, with high security and solidity nature.
2. Intellectual ultra thin little core of lock, This makes the breakage to the door as little as possible when making holes.
3. Free handle, to prevent the external stress from ruining the internal structure. The working life is long.
4. We test every circuit board to ensure its lifespan.
5. Lack of voltage indication to clew users should change batteries in time.
6. Emergency Cards or mechanical keys are used to open doors in special situations.
7. Preserve the latest 256 records of door opening circularly. Knowing about the dynamic at any moment.
8. Ending the open functions of lost or appointed cards.
9. Indication of not closing doors. There are clocks in internal parts of locks to control the using time of key cards and preventing clients owing charges.
10. Our software can clarify the administration classes of general manager, buildings, floors, service areas and rooms. Authority purview is really clear.