According to different types of hotels to install different electronic hotel keycard locks
Proyu Technology Proyu Technology 2017-05-09 11:00:33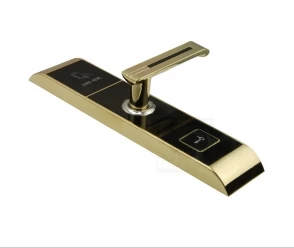 Why there are so many hotels to install electronic door locks less than one, two, again replaced? Because the original selection caused by improper operation of the loss, has far exceeded the purchase high quality again, brand protection electronic door lock input, to them, for the earlier, smaller loss. From the overall perspective of how to select the appropriate electronic door locks, can give your hotel to bring the greatest benefit and security? Standing in the hotel 's point of view, need to consider the following factors. 

    One, according to the card type selection
    There are currently on the market to the IC card, TM card, Temic card, Mifare card, a magnetic card to open mode of electronic door lock, which is a card type door lock is the most suitable for their own use of the hotel, hotel should combine oneself characteristic, refer to the following table, can choose a most suitable for their own electronic door lock.


  In two, according to the hotel where the natural geography environment and their choices
The hotel is located in the natural geographical conditions, selection of electronic door lock type is different.


    Meerzeit Hotel as the environment of damp, salt, corrosion resistance, can consider installing surface through nanotechnology treatment door, and door lock circuit board requirements after moisture-proof anti-corrosion treatment, the clutch motor part requires modular closed, in the harsh environment, the only way to ensure the door has a longer service life. 

    Outside the hotel, such as golf and leisure venues Hotel, since the door lock may be exposed to the outside, which requires the best UV door, door lock surface using nanometer treatment is the best choice. At the same time, the best use of TM card lock, due to its fully closed to prevent destructive, can avoid the outdoor dust clogging IC card or magnetic card card slot and can not open the lock.
Medium-sized hotels, can use IC card lock or RF card lock. RF card lock, especially in Mifare-1 card capacity of the largest, having sixteen partitions, for the hotel can realize the functions of " card " to provide the best solution. Econo Hotel, from low cost consideration, can use TM card lock.
Luxury hotel or large hotel can use magnetic card lock, its better publicity effect, health, and the card to use low cost.