Model PY- 806MJIDS11 Video Door Phone System
Sylvia Liu 2017-03-10 14:57:11
Product Introduction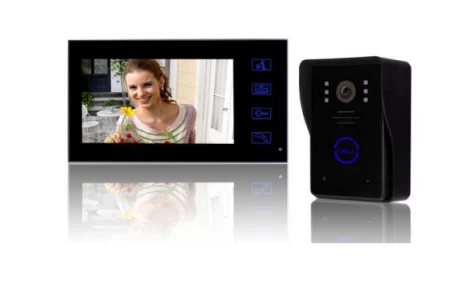 Model
PY-806MJID11
is a kind of video door phones used for the villa or office, it adopts advanced technology and the latest computer chips which highly improves the stability and durability of the system. Also, it has fashionable and beautiful appearance, and it adopts the design of ultrathin wall mounting type which makes this product light and convenience.
The Advance Features
1.Aluminum alloy panel of indoor unit, fashionable and luxury.
2.Water and oxidation-proof, durable aluminum alloy made outdoor station.
3 7 inch color TFT LCD, No radiation, low power consumption and high definition.
4.The camera could be high definition
5.Hand free intercom
6.Electric lock control function
7.Monitor the view out of the door
8.16 kind of rings for your options.
9.Volume, brightness and contrast adjustable
10.With adapter and cable, users could install it by themselves
11.With micro-processing technology auto-remote control, excellent performance and high reliability.

The Specification of the video door phone